Snowshoeing
Snowshoeing is a unique way to get around in deep snow and discover nature on foot in winter. The snowshoes prevent you from sinking into the snow. This sport is suitable for those who want to enjoy the silence of a "white winter wonderland".
You can go on short or longer tours independently, or join a guided tour.
Ask us about the current offers.
Ice Skating
With the right ice and snow conditions you can skate countless kilometres on untouched natural ice on and around Tyngsjö. Only the silence, endless widths and the sound of the skates accompany you.
If the lakes are covered with snow, you can skate over the lake on skis or still lace up your skates and do your laps on the field we have cleared or play hockey.
Please always be aware of the risks involved in entering natural ice and ask us if the lake has been approved for entry.
Cross-country Skiing
We prepare our own trails (where you will also find many different animal tracks!). In this white wonderland, which regularly "is being created" from mid December to the end of March, the possibilities are almost unlimited. We prepare cross-country trails with different levels of difficulty.
Cross-country skiing is not that difficult and you will reach places that not many people have been able to see before you.
Our cross-country ski rental offers cross-country ski equipment for all ages. Do you need instruction? We are happy to carry this out directly on the trail.
Are you interested to discover our cross-country ski trails? Try them out!
Alpine Skiing
For those who love downhill skiing, our area offers a wide range of possibilities, where you will find skiing and snowboarding on everything from easy to challenging slopes.
The Swedish slopes are well prepared and – unlike the slopes in the Alps – never crowded and affordable. Many pistes are also well suited, especially for children and beginners.
At Tyngsjö Vildmark we are happy to help you with your planning. Destinations for ski slopes in our area:
– Säfsen: 6 ski lifts, 15 downhill runs. Distance from Tyngsjö Vildmark 45km, journey time approx. 50 minutes.
– Ekesberget: Two ski lifts and five runs. Distance from Tyngsjö Vildmark 68km, journey time approx. 1 hour.
– Kläppen: 21 ski lifts and 34 runs. Distance from Tyngsjö Vildmark 100km, journey time approx. 1.5h.
Ice Fishing
If the ice layer is thick enough, you can ice fish on the lakes around Tyngsjö. We will drill a hole with a special ice drill, where you can try your luck.
Or you can rent the complete equipment from us and experience your adventure on your own.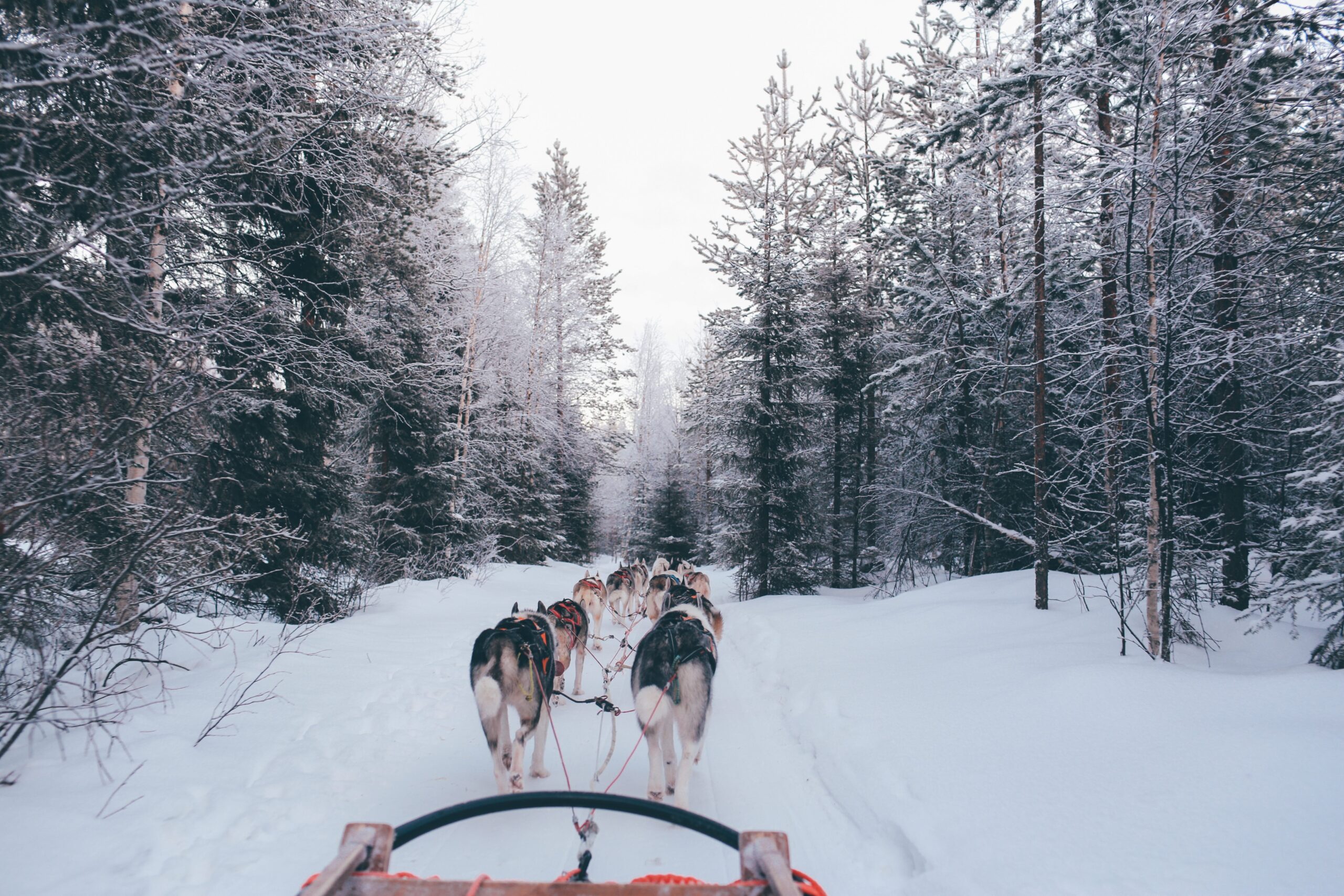 Dog Sledge
Would you like to enjoy the snowy landscape of Sweden on a sledge pulled by a team of dogs? If the snow conditions allow it, you can fulfil this dream here.
We are also happy to advise you on the offers and providers.
Snowmobile Safari
Would you like to explore the wilderness of Sweden on a snowmobile?
We will be happy to advise you on the offers and the providers.